INTRODUCTION TO PRIVATE COURSES
NO PRIVATE COURSES ARE CURRENTLY OFFERED. THE FOLLOWING MATERIAL IS PROVIDED FOR INFORMATION ONLY.
The theoretical basis for the movement courses rests on the archetypal and instinctual dark feminine, the non-gender dimension of the psyche that can be described, in part, as the "yin of yin," the place so yielding that it relinquishes itself into the dynamic yang force of sudden and piercing insight.

WHOM DO THE COURSES SERVE?
The courses are for practitioners of all disciplines (e.g. analysts, therapists) and practitioners-in-training, as well as for other interested individuals. Presentations for practitioners/in-training and non-practitioners are often taught separately.
For practitioners/in-training, the courses are intended to lend support to their professional work by developing greater receptivity to contents that arise from the unconscious, including dream images and psychosomatic symptoms. The courses can also provide opportunities for a further understanding of transference and countertransference concerns. Individual and group reflection on personal experiences within each class includes these professional considerations. The courses are also an opportunity for personal reflection and a means of self-renewal.
For other individuals, the courses provide an opportunity to integrate their experiences within the context that is suitable for them. For example, a biologist might reflect on how a direct experience of the inner world of psyche encourages her toward a deeper understanding of outer physical phenomena. An administrator might consider how a personal, visceral experience of yeilding and surrender would serve the greater whole. How it might help form a more human-centered bureaucracy. Additionally, a teacher might understand how an increased receptivity to what arises spontaneously in the moment would better equip him to serve the individual needs of each student.

APPROACH
Although there is an integration of different approaches, including butoh, bioenergetics and ritual theatre, the courses are not trainings in any special technique or method.
Rather, participation in the work fosters
a particular receptivity and sensitization
in body and mind.
Sensations and images can then be
more deeply experienced,
more fully embodied.
This can lead to
trust in the unknown,
meaningful surprise,
an ability to follow
deeper impulses
beyond our rational control,
insight.
To this end, skills fostered and encouraged include:
listening,
emptying,
yielding,
surrendering,
following,
allowing oneself to be formed by that which wants to be seen.
At the archetypal/instinctual level, these are attributes that belong to the dark feminine, the non-gender dimension of the psyche that can be described, as mentioned above, as the "yin of yin," the place so yielding that it relinquishes itself into the dynamic yang force of sudden and piercing insight.

METAPHORICAL CONCLUSION
Imagine, if you will, the following story describing not only two people meeting in the outer world, but also two characters interacting within one individual psyche. In both situations one finds the essence of the "yin of yin," the profound surrender that brings renewed vision and life.

The Stone

A wise woman traveling in the mountains found a precious stone in a stream. The next day she met another traveler who was hungry, and the wise woman opened her bag to share her food. The hungry traveler saw the precious stone and asked the woman to give it to him. She did so, without hesitation, in spite of knowing the stone's value.

The traveler left, rejoicing in his good fortune. He knew the stone was worth enough to give him security for a lifetime. But a few days later, he came back to return the stone to the wise woman.

"I've been thinking," he said, "I know how valuable the stone is, but I give it back with the hope that you can give me something even more precious. Teach me what you have within you that enabled you to give me the stone."
Author Unknown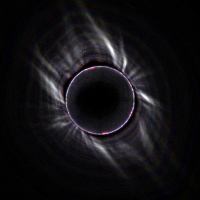 Solar Eclipse
All current presentations described are offered by Cedrus N. Monte, Ph.D. dipl., Diplomate Jungian Analyst, C. G. Jung Institute-Zurich, and can be booked by making contact at the e-mail or postal address provided on this site. (Detailed registration instructions are provided below and also here. To read comments from participants in previous experiential colloquia, please click here.)

COURSES
RECENTLY OFFERED PRIVATE COURSES AS PREVIOUSLY POSTED ON THIS SITE:
LANDSCAPES OF THE SOUL:
THE VISCERA OF METAPHOR
THE ANIMA MUNDI IN ALL CELLS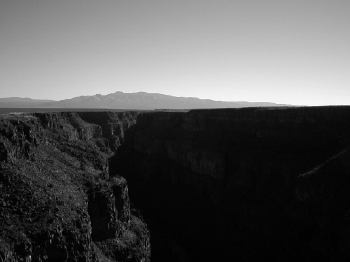 Rio Grande Gorge, Taos, New Mexico
MOVEMENT COURSES:
EXPERIENTIAL COLLOQUIA
(Comments from participants in previous
experiential colloquia are available here.)
APRIL, MAY, JUNE
AND
NOVEMBER, DECEMBER
2004

OVERVIEW
FOR
MOVEMENT COURSES
The container for all movement courses is the archetypal and instinctual Dark Feminine. The dark feminine is the dimension of the psyche that allows us to engage both life and death as vivifying and meaningful.
The dark feminine is not gender-based, it is not negative, it is not shadow or repressed material.

In the movement work,
we approach the dark feminine experientially, viscerally.
The dark feminine takes on a body.

Allowing the body-in-movment to meet the unconscious - that is, to meet the unknown - encourages a direct and pre/non-verbal experience of unconscious contents. When images from the unconscious find instinctual expression, when they connect fully with inner impulses from deep within the body, consciousness is more fully informed. We have the opportunity to meet what is dreaming us…what is moving us.
In movement, in the body, the image awakens. We become, in our physical being, the message of the image from the unconscious:

You dream of a door opening...How is "a door opening" experienced within you, as you?

Different movement modalities, including butoh, bio-energetics, and ritual theatre will be used to open and free the body and to access direct experience of images that arise from the unconscious.

THE FOLLOWING COURSES ARE SCHEDULED AS AN ONGOING AND CONTINUOUS EXPLORATION FOR THE YEAR 2004.
INDIVIDUAL COURSES CAN BE PRESENTED IN SWITZERLAND AS WELL AS ABROAD TO INTERESTED GROUPS ON AN INTRODUCTORY BASIS.

DETAILS
COURSE I
LANDSCAPES OF THE SOUL:
THE VISCERA OF METAPHOR
THE ANIMA MUNDI IN ALL CELLS
Open to Training and Diploma Candidates at the C. G. Jung Institute in Zurich (or other groups by arrangement).

The following themes will be explored:
DREAM IMAGES
PSYCHOSOMATIC SYMPTOMS
ANCESTRAL LANDS
EXILE
HOME

DATES:
Sundays
April 25, May 30, June 13
and
November 14, November 28, December 12
For group solidarity
a commitment to blocks of three is requested.
TIME:
11:30 am to 4:30 pm
PLACE:
to be announced
Zurich
COST:
SFr. 150
for each Sunday

SFr. 840 for six sessions
when paid in full
miminum 6 participants
maximum 12 participants
DUE TO SMALL CLASSES
PRE-REGISTRATION IS REQUIRED
THREE WEEKS IN ADVANCE
AND IS BINDING
after pre-registration, payments can be made
by Einzahlungshein or bank transfer
refunds are possible only when
someone on the waitng list can attend
Individual sessions can be arranged at any time for greater integration of experiences that arise in group work.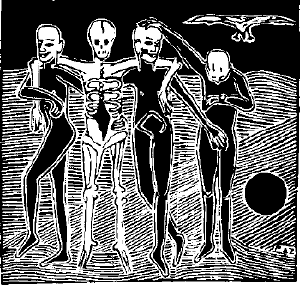 "Taking Brother Death Home"