Moving in the Bardos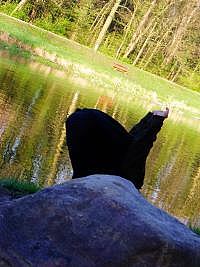 As you may have noticed on the
Courses
page of this website, I offer workshops in movement. This work has evolved out of a 30 year inquiry into the body. I am fortunate to have studied with some very fine teachers, some known and some unknown, either in classes or in long years of private, collaborative research. Each teacher and colleague has been an original pioneer, offering a crucible of discovery by way of their excursions into the unknown.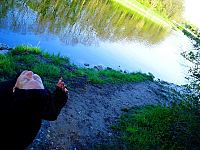 When I started a few years ago to offer my own courses on a formal basis, I saw very quickly how imperative it is to keep the work alive by direct and sustained participation in the process, either with a teacher or colleague or through self-designed inquiry. I believe we must find a way to feed ourselves if we are to help feed others. Otherwise, we soon starve.
This spring, I realized I was starving and had to find a way to sustenance.
After considerable thought, I knew I needed to do something that was immediate, alive, flexible, related to the organic, natural world. Taking my cue from Min Tinaka, Japanese Butoh dancer and teacher, I decided to go walking in the early morning to see what movement would arise spontaneously, just letting myself be formed and moved by any impulses I might experience while in nature. I mentioned this to a friend of mine who offered their support by sometimes walking with me and sometimes taking photos.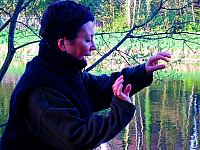 These first inquiries have taken shape by getting up at 5:30 in the morning and walking by the Limmat, the river that flows out of the Lake of Zurich, through the city of Zurich, and on towards Baden.
I had great expectations for myself, for the project. But I soon learned that the expectations bowed to "a lesser god," one of small moves and gradual, imperceptible changes.
Just getting up at that hour was a commitment of great effort: I was used to ending my day at 2 or 3 in the morning. At 5:30, my body was more like a piece of lead than anything mutable and receptive. I soon realized that just showing up, and letting myself feel all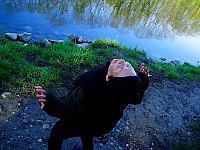 the resistance and discomfort it felt, was the exercise. Simplicity, humility, patience. Maybe, just maybe, I would be able to perceive something of the nature of river, stone and tree in the tiny quivers of cellular recognition and corporal mutuality.
There have been micro-seconds of this recognition. There have even been spontaneous arrivals of birds, according to my friend. Watching, according to my friend. Sometimes it really is only these precious micro-seconds of genuine receptivity to life that we are granted. Perhaps we can learn, with patience, humility and an open heart, to let the seconds move into moments...
Click here to view Image Gallery